hawos Oktagon Grain Mill
"Everything fits together here". Inside and out: Easy handling, infinitely adjustable grinder, extremely hard grinding stones and a powerful 360/600 watt motor, as well as the solid brass setting scale. Our "Octagon" model scores with strong performance and top results when grinding cereals and spices. Even with fine adjustment, the grinding noise is still pleasant. With a body made of solid, steamed beech wood, it is a piece of jewellery with perfect craftsmanship for every kitchen. With its eight corners, the model Octagon is a real eye-catcher: nice and good!
Oktagon 1 was test winner in the flour milling test of the magazine "Testmagazin", issue 3/2010 (8 grain mills of different manufacturers were tested). Why be satisfied with less?
The "inner values" in hawos quality
Oktagon 1
Oktagon 2
Housing
solid beech
Grinding capacity for (wheat)
-fine
-course
ca. 125 g/min
ca. 250-300 g/min
ca. 220 g/min
ca. 400-500 g/min
Hopper capacity (wheat)
ca. 1100 g
ca. 1100 g
Grindstone ø (corundum ceramic stones)
100 mm
Weight
8.8 kg
10.3 kg
Power
360 W
600 W
Mains voltage
230 V
230 V
Height allowance for bowls
16 cm
17 cm
Footprint (W x D x H)
200 x 200 x 410 mm
200 x 200 x 450 mm
Surface treatment
Linseed oil varnish
Warranty
10 Years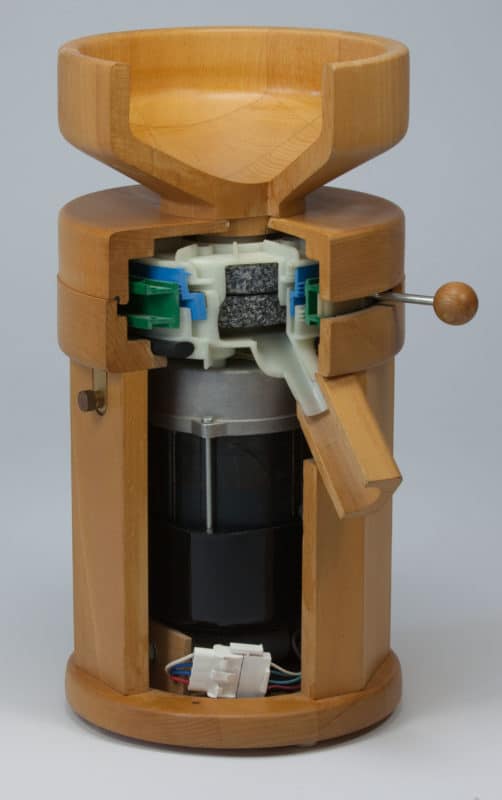 The hawos Oktagon 1 has the same engine and grinding power as the Novum, Billy 1, Mill 1 and Queen 1.
The hawos Oktagon 2 has the technical features like the Billy 2, Mill 2 and Queen 2.
Note for allergy sufferers: All hawos mills are also available gluten-free ground.