hawos Novum flour mill
Extremely quiet thanks to the ingenious grinder bearing (patented), hawos Novum grinds extremely quietly. The headroom for the bowl is 16 cm (shapely, practical plastic bowl is included). Module technology hawos Novum consists of only a few parts. The modular design allows easy disassembly and assembly – without special tools (eg for thorough cleaning). Parental control integrated Accidental switching on with the funnel removed is impossible with hawos Novum.
hawos Novum brings color to your kitchen
Proven in technology and unusual in design. Particularly striking is the plastic housing – designed especially for modern kitchens. The independent form and selected color combinations make the novelty unmistakable. Fine and flaky flour effortlessly grinds hawos novum for your household. This grain mill is very robust and designed for daily use in the kitchen due to the impact-resistant plastic housing. Outstanding is the original design. The curved shape fits perfectly into the design of modern kitchens. Both form and color create the successful combination of technology and design.
High performance for the demanding household
hawos Novum is equipped with the proven hawos mill technology. The motor with the 230 volt connection provides 360 watts. That's the power for intensive continuous use.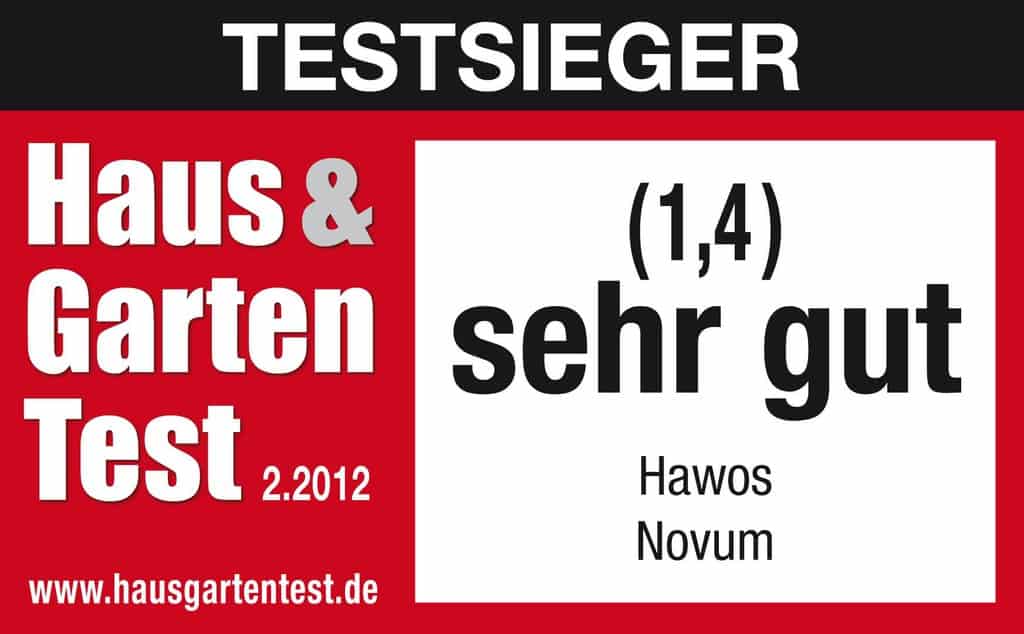 hawos Novum got 1st Place in 'Haus & Garten' in which five mills from various manufacturers were tested.
The "inner values" of hawos-quality

Casing
impact-resistant plastic (Makrolon)
Grinding capacity for (wheat)
-fine
-corse
ca. 125 g/min
ca. 250-300 g/min
Hopper capacity (wheat)
ca. 600 g
Grindstone ø (corundum ceramic stones)
100 mm
Grinder storage
Elastic storage, therefore very quiet grinding
Weight
7,1 kg
Motor output
360 W
Mains voltage
230 V (110V available)
Height allowance for bowls
16 cm
Footprint (W x D x H)
200 x 200 x 380 mm
Volume
ca. 70 dB
Warranty
10 Years
Special features
One-hand-operation
Note for allergy sufferers:
All hawos mills are ground gluten-free!