hawos Easy – the name says it all.
The little guy has a footprint of a mere 15 x 15 cm while delivering high performance. Its single-handed operation makes having everything under control a cinch. Turn on the mill and set the grinding fineness – steplessly from the finest flour to coarse groats by simply turning the adjustment wheel.
The high-performance industrial motor transfers 360 watts of power to the grinding attachment which is made of highly robust corundum-ceramic. More than enough – even when grinding sweet corn.
The straight-forward, shapely housing made of solid multiplex is manufactured with care. For your hawos easy this means: a long lifecycle and excellent form stability with all the benefits of an exposed, natural and oiled wooden surface.
Exceptional packaging for exceptional engineering!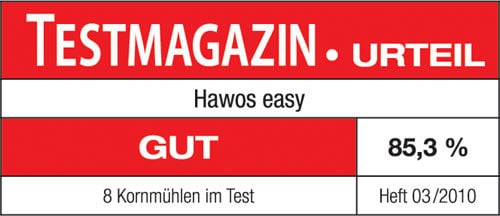 Technical Details for the hawos easy
Housing
Birch multiplex
Grinding capacity for (wheat)
-fine
-corse
approx. 100 g/min
approx. 250 g/min
Hopper capacity (wheat)
approx. 560 g (1.23 lbs.)
Grindstone ø (corundum ceramic stones)
70 mm (2.76 inches)
Weight
approx. 7,9 kg (17.4 lbs.)
Motor output

Mains Voltage

360 W

230 V  (110 V version available)

Height allowance for bowls
14 cm (5.6 inches)
Footprint Dimensions (W x D x H)
150 x 150 x 330 mm (6 x 6 x 13 inches)
Surface treatment
Linseed oil varnish
Guarantee
10 years
Special Features
Single-handed operation
Note for allergy sufferers:
All hawos mills are ground gluten-free!