hawos Muehle Grain Mill
Made from beautiful solid pieces of beech wood for superb durability. The grinding chamber is made of hygienic, food-safe plastic.
hawos Muehle 1 & Muehle 2 are classics in a square basic format, equipped with robust modular technology. The housing is made of solid beech wood in many steps of perfect craftsmanship; the lively, individual grain is emphasised by linseed oil varnish after the final polish. Their high performance, simple adjustability and the elastically mounted grinder make hawos Muehle 1 & Muehle 2 very quiet helpers in every kitchen.
The hawos Muehle 1 has the same motor and grinding performance as the Novum, Billy 1, Queen 1 and Oktagon 1.
The hawos Muehle 2 has the technical equipment such as the Billy 2, Queen 2 and Oktagon 2.
Specs hawos Muehle
Muehle 1
Muehle 2
Housing
Beech solid wood
Grinding capacity (wheat)
– fine
– roughly
approx. 125 g / min
approx. 250-300 g /min
approx. 220 g / min
approx. 400-500 g / min
Hopper filling quantity (wheat)
approx. 1300 g
approx. 1500 g
Grinding stone ø (corundum ceramic stones)
100 mm
Weight
9.9 kg
11.6 kg
Power
360 W
600 W
Voltage
230 V
230 V
Max height of flour bowl
16 cm
17 cm
Footprint (W x D x H)
200 x 200 x 410 mm
200 x 200 x 450 mm
Surface treatment
linseed oil varnish
Warranty
10 years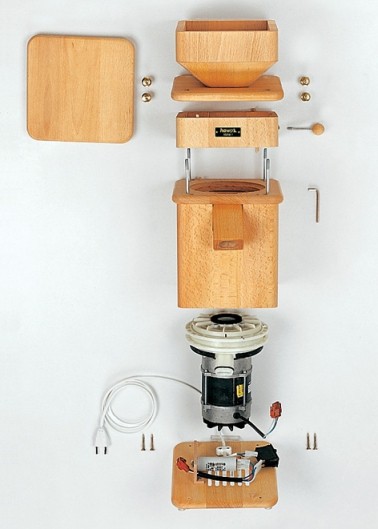 Note for allergy sufferers:
All hawos mills are ground gluten-free!